Tuesday, March 8th, 2022: 10:00am – 2:00pm
12901 Newburgh Rd. Livonia, MI. 48150
Join us for lunch and a technical discussion on Designing for Additive Manufacturing, and how HP 3D Printers compare to other technologies in this field. Hundreds of sample parts will be on display to illustrate what can be achieved through design, and the printers will be running to showcase the production process.
Lunch will be provided.
Special Guest Aaron DeLong, HP 3D Application Engineer
Topics Include:
Overview of different Additive Manufacturing technologies
Design for optimal function, free of traditional manufacturing constraints
Leverage HP 3D additive manufacturing to optimize your application
Replace many parts in an assembly with one part
Reduce material waste
Mass customization
Complexity is free
Q & A Session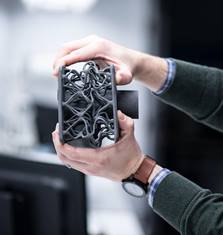 Selecting the right material for your application is crucial. During the workshop learn how to manipulate the following materials through design to achieve your desired part performance.
PA11
PA12
PA12 Glass Bead
TPU
TPA
Polypropylene
---
RELATED READING:
Exploring the New Mindset for Designing for Additive Manufacturing