In November 2017, HP expanded its 3D printing portfolio with the addition of the HP Jet Fusion 3D 4210 Printing Solution. Designed for industrial-scale 3D manufacturing, the upgrade incorporates a MultiJet Fusion printer and processing station that can be used on an existing 3D 4200.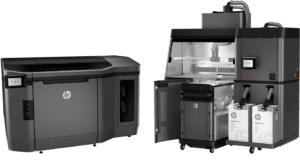 The hardware and firmware upgrades improve overall system efficiency and enable continuous operation and the new processing station is capable of handling significantly higher materials volumes.
"HP's Jet Fusion 3D systems have now reached a technological and economic inflection point that combines the speed, quality, and scalability needed to accelerate manufacturing's digital industrial revolution." – Ramon Pastor, General Manager of Multi Jet Fusion for HP's 3D printing business.
By focusing on end-user needs HP has been able to make vast improvements to their Multi Jet Fusion technology and address the pain points of industrial manufacturers.
The MJF 4210 Represents An Economic Inflection Point for Industrial-Scale 3D Manufacturing
One of the drawbacks of legacy 3D printing is the high materials cost, due to significant material waste and the limited availability of large quantities, and HP's new Jet Fusion 4210 3D Printing Solution solves this problem.
HP's PA 11, PA 12 Glass Beads, and Polypropylene (PP) materials boast industry-leading reusability, and customers who purchase the HP Jet Fusion 3D 4210 benefit from shared service contracts. These contracts significantly lower pricing on the engineering-grade 3D printing materials and agents by making the materials rapidly available in large quantities.
Coupled with breakthrough productivity, these material upgrades represent a shift in 3D Printing technology. The Jet Fusion 4210 increases production volume capabilities and significantly decreases operating costs, priming the solution for industrial-scale 3D manufacturing,
"The new 3D 4210 Printing Solution enables our customers to mass-produce parts using HP's Multi Jet Fusion technology for 65% less than other processes, and fully benefit from the economies of scale," – Ramon Pastor
Based on internal testing and cost analysis, the advancement raises the "break-even point" for large-scale 3D manufacturing to up to 110,000 parts and enables the industry's lowest cost-per-part (CPP), proving the solution's value as a viable industrial-manufacturing solution.
Impact and Implications of the Jet Fusion 4210 Solution
Superior voxel-level control and breakthrough productivity are attractive characteristics to modern manufacturers. Now that HP's Multi Jet Fusion technology is capable of delivering favorable economics, it's no surprise that the HP MJF 4210 is being rapidly adopted across various industries.
Many North American companies are purchasing the solution for in-house use and others are using the solution to sell printed parts. HP also recently entered the $6 trillion Asia-Pacific and Japan manufacturing segment when it launched the product in India in December 2017.
HP has already forged partnerships with some of the world's leading manufacturers and materials producers, allowing the company to set up a feedback system to continuously refine their technology and Open Materials Platform, and improve their ability to accommodate end-user needs.
As global adoption continues to drive innovation the MJF family of solutions will only continue to improve. In just one year, HP has added over five new solutions and five new materials that redefined the boundaries of 3D printing, including engineering-grade colored parts.