Until recently, 3D printing required certain production volumes in order to be economically worthwhile, and the material options were limited. However, many major players have been working together to improve additive manufacturing economics, accelerate materials innovation, and increase adoption across industries.
HP made a big announcement on Feb. 5 as it continued its democratization of 3D design and manufacturing with the introduction of the HP 3D 300/500 series. The four new 3D printers are the industry's first solution that enables manufacturers to produce engineering-grade, functional parts in full color, black or white – with voxel control – in a fraction of the time of other solutions.
The expanded portfolio not only addresses the need for color printing; it also offers a viable solution for companies running smalling production volumes.
"Many small OEMs print less than 130 parts per week and these new products are targeted at them," – Ramon Pastor, general manager, Multi Jet Fusion 3D Printing Business of HP.
With a favorable cost per part and starting cost of $50,000, the solution opens up innovation for small-to-medium-sized product development teams, design businesses, entrepreneurs, and universities, research institutions – not just industrial manufacturers.
HP Jet Fusion 340, 380, 540, and 580 Specifications
The new Jet Fusion 300/500 series runs on the same Multi Jet Fusion platform as its industrial HP Jet Fusion 3200/4200/4210 products, giving designers voxel-level control and the ability to create prototypes that are near identical to the end-stage item.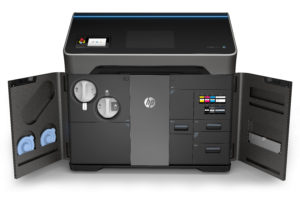 The new Jet Fusion 300 / 500 series of 3D printers features a compact design (61.6 x 37.6 x 59.3 in) and enhanced workflow, including an automated materials delivery system. All-in-all, the solution greatly improves user experience (and unattended operation) while simultaneously increasing production efficiency and output.
The expanded product portfolio launched with a new material called HP PA Color Boost (CB) 12, and supports three color file formats (OBJ, VRML, and 3MF). The new material is similar to the one used in HP's industrial products and helps to keep running costs down while offering a fraction of the printing time of comparable solutions.
The solution comes with a choice of two print bed sizes to accommodate both smaller and large print sizes (7.5 x 10 x 9.8 in and 7.5 x 13.1 x 9.8).
The Jet Fusion 340 (black or white)/380 (color

) is designed for customers who print fewer parts per build.

Jet Fusion 540 (black or white)/580 (color)

is for larger parts and heavier production.
A breakthrough solution in an accessible price range, the HP 3D 300/500 series broadens the scope for MJF technology and should prove to greatly accelerate adoption.
Distribution, Availability, and Impact of the 300/500 Series
The Jet Fusion 300/500 series of 3D printers is available for pre-order now and will beging shipping in the second half of the 2018 calendar year. Based on previous rollouts, adoption should only prove to refine HP's Open Platform approach and contribute to the development of new materials and use cases.
"No matter your industry, no matter your design complexity, no matter what colors fit your business needs – black, white, or the full-color spectrum – the new HP Jet Fusion 300 / 500 series gives you the freedom to create brilliant new parts liberated from the constraints of traditional production methods." – Stephen Nigro
By making the technology available to smaller firms and research institutions and building on its existing partnerships, HP is opening up the technology's application beyond industrial manufacturing and increasing its potential for innovation.
In the same press release, HP formally announced its collaboration with Dassault Systemes in an effort to optimize Dassault's Solidworks 3D design software and engineering applications for HP's Multi Jet Fusion 3D printing lineup. In empowering entrepreneurs, makers, students, and businesses, the companies hope to increase product design innovation.
The HP 3D 300/500 Series enables customers to go from prototyping to full production on the same Multi Jet Fusion technology platform and also evolves the partner program to deliver broader capabilities and target new resellers. By democratizing the use of their technology, HP is opening up 3D printing to the masses which will further accelerate adoption and innovation.